Pasir Gudang is a town located in Johor, Malaysia. It is located at the mouth of the Johor River, about 37 kilometers southeast of Johor Bahru, the state capital of Johor. Pasir Gudang passenger ferry service carries passengers and sometimes vehicles across a body of water. It is not uncommon for cities or towns located on a river, lake, or ocean to have a passenger ferry service as an alternative mode of transportation.
Traveling to and from Pasir Gudang has never been easier than it is now with the new passenger ferry service. This express ferry provides a safe and reliable way for passengers to get between Pasir Gudang and Johor Bahru. With the ferry, you can enjoy views of the Straits of Johor and the surrounding greenery as you travel across the water in comfort.
Pasir Gudang Ferry is a well-known boat service. Between Pasir Gudang and Batam, they specialize in offering ferry service. The Pasir Gudang Ferry Terminal serves as both the departure and arrival points for trips, while the Batam Centre Ferry Terminal serves as both locations.

Pasir Gudang Ferry Services
THe Pasir Gudang Ferry has diiferent types of vessels. Their high-speed ferries are named as -
MDM Express 02- Capacity 163 passengers
MV MDM EXPRESS 03- Capacity 138 passengers
MV MDM EXPRESS - Capacity of 208 passengers

Batam to Pasir Gudang Travel Time
The Pasir Gudang Passenger ferry takes 1 hour 15 minutes to cover the Pasir Gudang to Batam distance.

Pasir Gudang Passenger Ferry Ticket Prices
Pasir Gudang to Batam ferry tickets will cost you nearly MYR 73 for a one way trip. Also, passengers have to pay an additional of RM40 or so as seaport taxes upon checkin as levied by the terminal.
You can check for ferry ticket promotion and book round trip ferry tickets to save more on ferry ticket online.
Terminal Fee
Travellers must pay a nominal terminal fee over and above the ferry ticket prices to the ferry terminals in Indonesia and Singapore. The terminal fee varies by country and must be paid to the terminal operator at the ferry terminal.
While there are also surcharges and peak prices, the terminal fee has to be paid at the terminal unless stated otherwise, as included in the ferry tickets. It is advised that you check the ticket inclusions when doing the ferry online booking.
Singapore Passenger Departure Fee (SPDF)
For all ferry trips departing from Harbourfront Centre or Tanah Merah Ferry Terminal in Singapore as the source, a Singapore Passenger Departure Fee of SGD10 per person is applicable.
Terminal Fee For Ferry Trips From Batam
For ferry trips departing from Batam Centre, Sekupang and Waterfront - Batam Terminal Fee of Rp65,000 or SGD7 is levied per person.
Pasir Gudang Ferry Schedule
Pasir Gudang ferry schedule is such that the first ferry starts from Pasir Gudang to Batam at 08:00 hrs.
From Batam, the first ferry to Pasir Gudang is at 06:30 hrs and the last ferry takes off at 16:20 hrs.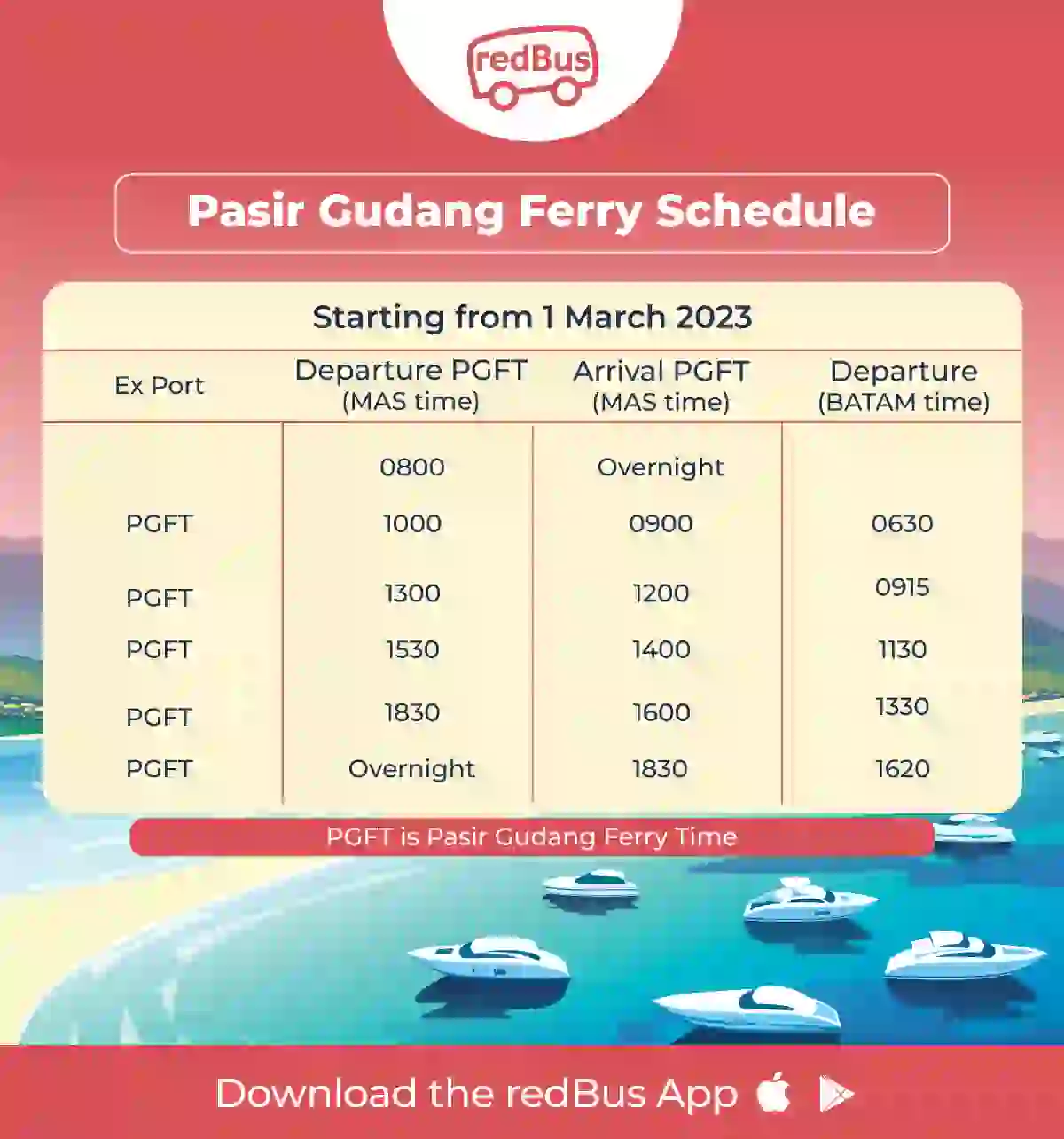 The ferry schedule might change last minute due to weather condtitions and hence keep a check on ferry schedule.
Amenities
The Pasir Gudang Passenger Ferry offers a variety of amenities for passengers to enjoy during their journey.
Spacious deck area for passengers to relax and take in the scenery.
Comfortable seating area inside the ferry.
Air conditioner
Luggage allowance of up to 20 kgs per passenger
English speaking staff
Popular Routes
There are three main routes served by Pasir Gudang Passenger Ferry ferry services are:
Pasir Gudang to Batam
Batam to Pasir Gudang

For the route is to Batam, a number of ferries that go to Batam Center are available from Pasir Gudang Ferry Terminal. Customers have two options for purchasing ferry tickets: either at the ticket counter or getting your ferry tickets online.

Office Address
Pasir Gudang Ferry
Lot 21, Jalan Feri,
Pelabuhan Pasir Gudang,
Johor, Malaysia.
Tel No: +607-255 2202